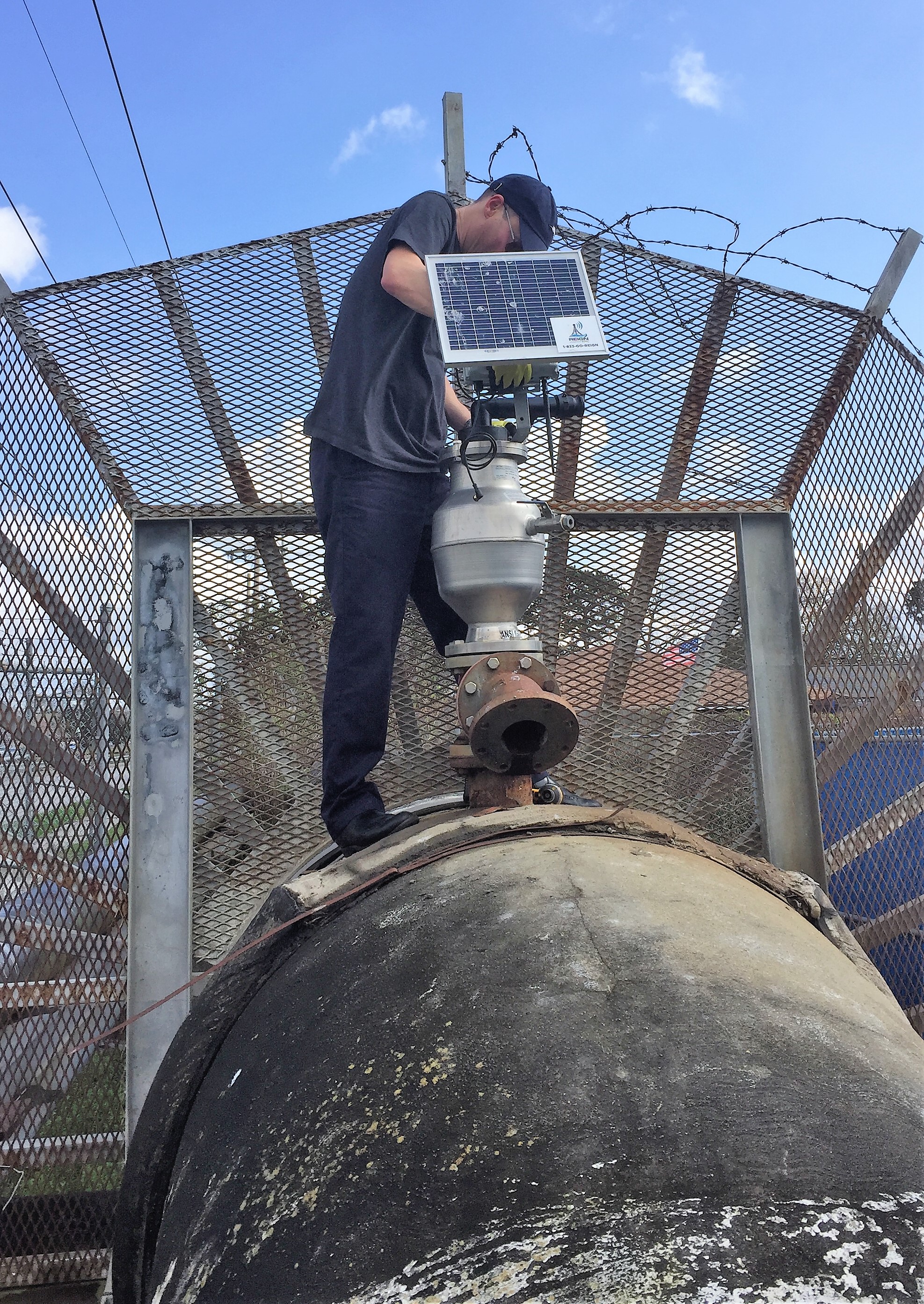 SAMPlE INSTALLATION OF A DIGITAL AV IN LOUISIANA / USA
H-TEC - Digital Service Indicator
At the previous IFAT 2018, the digital AV was presented to a broad public. The idea to use an air valve monitored by a sensor was eagerly embraced by the H-TEC customers in the USA. However, some technical details had to be adapted for the American market. In early January 2019, the first trial installation took place. Together with the H-TECH representative for this region, HMI Highway Municipal Industrial Materials, Inc., the technology was adapted, and the unit was installed on site in New Orleans onto an air valve model 986 already existing there.
The main task of the sensor system for this sewage water valve is the quick alerting when sewage escapes from the upper PE valve elbow. Via remote data transmission, this indication of a case of damage is transmitted to a commercial receiver unit (PC, laptop, or - via SMS - a mobile phone). In case of an alarm, the local municipality's on-call service team should move out, test the valve for any malfunction, and remedy the cause of damage. Thus, any leakage of sewage harmful to the environment is reported quickly, and malfunctions can be eliminated immediately. To our customers, this means that their systems are more reliable and it is easier for them to coordinate outdoor operations. The trial installation in New Orleans currently takes place on a channel overpass (see photos). Via a solar panel, the open-air installation is supplied with power. The sensor is integrated in
the upper PE valve outlet, and the RTU (radio transmission unit) is screwed to the upper body flange along with the solar panel and the antenna.
In early February, HMI received a malfunction message from the valve. Together with H-TEC employee Britt Hand, the cause could be eliminated. Moreover, this trial installation has already yielded some suggestions for improvement. For example, the sensor-equipped PE outlet elbow is bent by another 90° to prevent rainwater from getting to the sensitive sensor and triggering a false alert. More sample installations are to follow until the product will finally be ready to go into production.
VISIT US AT WEFTEC 2021 booth #1577
Visit www.weftec.org